Now Serving: A Full Bar
Posted on July 18, 2014 by Frozen Pints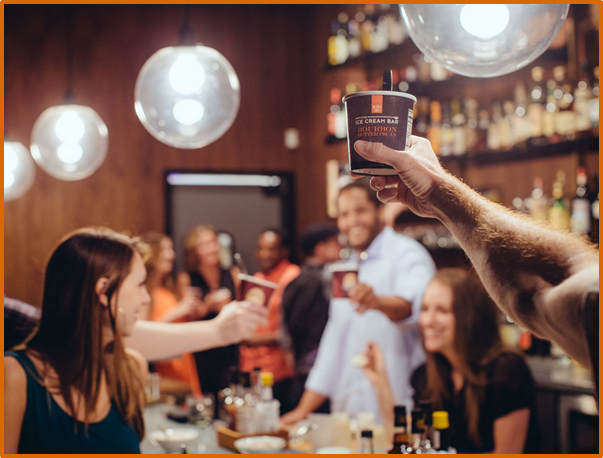 You may have heard the news – we recently launched a new brand of alcoholic ice cream and sorbet, The Ice Cream Bar.  We couldn't be more excited.  An entry into a new market, it's the next step in growing our business to be the premier provider of alcoholic ice cream.  When you go to a bar, you can order any type of alcohol, and it shouldn't be
any different just because our goods are frozen.
As excited as we are, we've gotten a lot of questions from current fans of Frozen Pints about its status – just to clarify, it's not going anywhere.  It's
kind of like having a new kid – you still love the old one, and you love them both differently (as much as older siblings might protest).  Rest assured, as a middle child myself, I will make 100% sure that everyone is taken care of.
As to The Ice Cream Bar, flavors include Bourbon Butter Pecan and Mojito Sorbet. It runs between 8%
and 9% alcohol, which works out to about three shots in a pint, so take it easy as you reach for a double (scoop). It's the real deal.
And me? I'm excited
to have a full bar to play with. In college I set up a bar in my dormroom complete with a false-backed bookcase – books on one side, liquor on the other. The Ice Cream Bar brings back great memories. Let me
know if you have some ideas for a new cold-coction here , and enjoy the rest of ice cream season while you can.
Ari