Recipe: Mexican Chocolate Stout Pound Cake & Moo-Hoo Mint Ice Cream
Posted on December 20, 2013 by Frozen Pints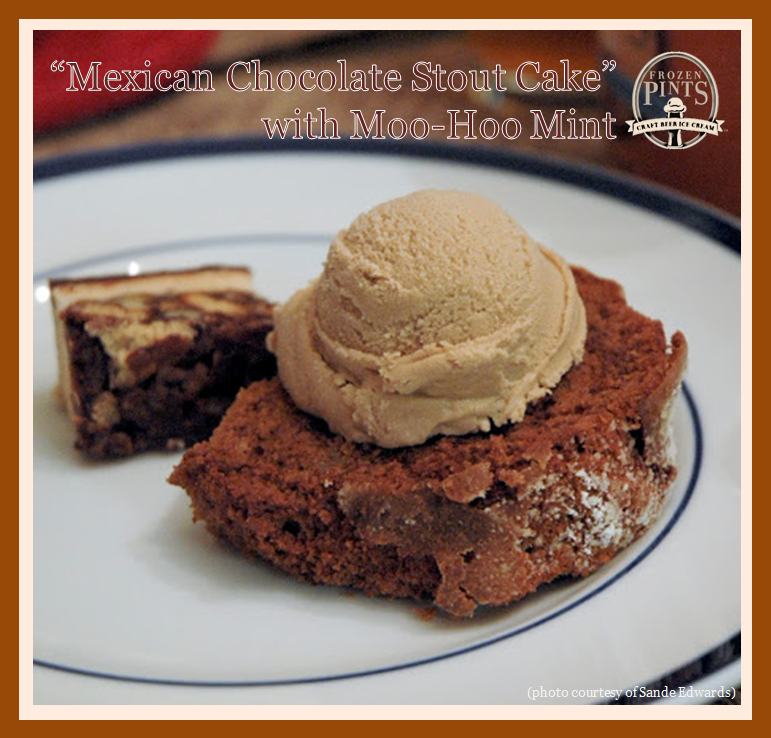 Katie acheter cialis france ligne Collier's adaptation of a recipe found on Yesterfood.
Ingredients:
1 pint Moo-Hoo Mint ice cream
1 (8-oz.) package semisweet chocolate baking squares, chopped
1 cup butter, softened at room temperature
1 and 1/2 cups sugar
4 large eggs
1/4 cup chocolate syrup
2 tablespoons stout beer
2 teaspoons vanilla extract
2 and 1/2 cups all-purpose flour
2 and 1/4 teaspoons ground cinnamon
1/4 teaspoon baking soda
1/8 teaspoon salt
1 cup buttermilk (room temperature)
1/8 cup powdered sugar (for garnish)
Directions:
Microwave chocolate baking squares in a small bowl, stirring every 15 seconds, until chocolate is melted and smooth. This should take about 1 minute.
Beat butter at medium speed with an electric mixer 2 minutes or until creamy. Continue beating mixture while gradually add sugar. Then beat until light and fluffy – about 5 to 7 minutes.  Add eggs, one at
a time, beating just until yellow disappears after each addition. Stir in melted chocolate, chocolate syrup, stout beer and vanilla until smooth.
Combine the flour, cinnamon, baking soda, and salt. Add to butter mixture, alternating with buttermilk, beginning and ending with flour mixture. domain webhosting info Beat at low speed just until blended after each addition. Pour batter into a greased and floured 10-inch tube pan
or a 12-cup Bundt pan.
Bake at 325° for about 1 hour and 10 minutes (start checking at about an hour; be careful not to over-bake) or until a long wooden pick inserted in center of cake comes out clean. Cool in pan on a wire rack 10 to 15 minutes; remove from pan to a wire rack, and let cool completely. Sprinkle with confectioners' sugar.
Once cool, slice and serve with one scoop of Moo-Hoo Mint on top.